5 Great Reasons You Need Business Listing Management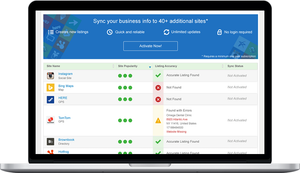 Did you know that the majority of business listing information on websites comes from 4 major resources?
We Have Automated Tools To Make Sure Your Listings Are Accurate Across The Web
Now imagine one of them has your phone number listed incorrectly. 
Here are 5 reasons you need to manage your online business listings for accuracy and business growth.
1. Accurate information is key in getting found online. Making sure the major platforms have your correct information means you appear uniform and consistent across the web.
2. Consistent business listing information increases trust among internet users. Seeing the same business phone number and address across multiple platforms is a welcome sight by customers. Knowing that these details are the same will increase the chance they engage with you.
3. Inaccuracy in your business listing will impact your credibility and reduce customer engagement. When business information comes up different on the major platforms it's confusing. 
4. Using a business listing management tool makes monitoring easy and efficient. With hundreds of directories pulling information from a few platforms it is important to monitor. Using a dash board to quickly monitor AND fix any errors saves time and money. Knowing that you can edit and update your business listing easily means you will more likely follow up.
5. If you change your phone number, address or other critical business information, can you wait 6-8 weeks for it to update? If a business with a similar name or phone number gets confused with yours you need to spot it first, which can be difficult. Changing it can be time consuming and frustrating.
Work with a proven business listing management platform and watch as customer find you easier and revenue grows.
Don't Forget To Ask For Reviews!
Stay on top of your digital presence.