12 Great Places To Get FREE Soundbites - Updated 2021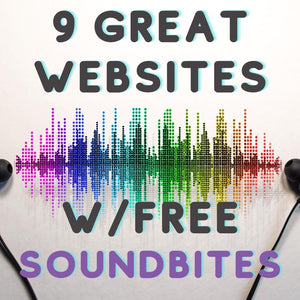 In the podcast and video production world people are always looking for great places to get free soundbites.
Here is a list of 9 website that offer free and paid soundbites, sound effects, and music. Check it out and share it with your favorite podcaster or video maker.
Be sure to check out number 10, the newest addition to the list.
These site have all kinds of interesting sounds and sound effects. Here are a few you may find - Pop Sounds effects, Click sound effects, Footsteps sound effects, Coin sound effects, Door Slamming sound effects, Laser Gun sound effects, and many more.
Some of these have free video clips which are great for intros and transitions during Youtube videos. Take a look and let me know which ones are your favorites in the comments. 
Looking for FREE Video Clips?
14 Best Free Stock Video Websites