Hawaiian Style Bakery Business Startup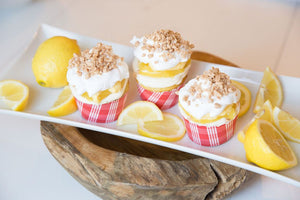 In the early part of 2019 I came across a post from an old friend about her decision to start a bakery business. She had been urged on by some close friends to take the plunge and accept the challenge. Having made up her mind she was announcing her decision to the world, a good first step.
As an entrepreneur all my life and having helped several others with business startups, websites, and planning, I immediately reached out to congratulate and encourage her. One of the most exciting times in your business journey (and scary!) is making the decision to move from idea to taking action. I knew the energy and optimism she was feeling, having felt it many times myself. This lead to the need for a website and the rest is history. 
I always tell clients that the action required to setup your website will help clarify and lay a solid foundation for your business going forward. Getting the logo together, colors, and fonts, really brought the layout together for the bakery. It is a lot of work getting these items just right with sizing, shades, and design, but the process really gets you thinking. The unique palaka print design use at hawaiianstylebakery.com is memorable and will build a strong brand for the business.
We also knew we were working with a tight budget as is the case for most startups. Shopify provides multiple free themes and we looked at all of them closely before deciding which would work for the online store front. Many times picking a theme can be tricky because of the wide assortment of options, narrow it down and go from there.
The one thing that really made designing this store so enjoyable was the quality photographs that were provided. It seems like everyday I was getting new photos of different pastries, cupcakes, breads, and other baked goods. If you are thinking of starting your own online business, take the time for quality photos. The first thing people absorb when visiting your site its the pictures. You can almost taste these cupcakes right from the screen.
Like every new business we had a couple of unique requirements that needed to be implemented on the website.
First we needed to offer a featured product for each week which meant only showing what was available. Using some built in theme features we were able to hide products not available and feature those on the main homepage. We initially thought that showing all products would work but customer feedback quickly told us otherwise.
The other key requirement was to offer pickup at the location and delivery, but only within a certain radius of the business. For this custom pickup and delivery option we used the Zapiet Pickup+Delivery App. As with all custom add-ons and feature rich applications it took a bit to nail down but we got it. Learning about the Google Maps Api for geo-location was quite interesting.
As we approached the completion of the site our thoughts turned to marketing ideas, communicating with customers both new and returning. We installed a popup and inline email capture form for the Constant Contact email account and quickly starting capturing emails. Promoting the site and building some excitement through social media channels really helped and the owner excelled in executing this.
With a strong presence in the community and several raving customers we also took the opportunity to get some quality reviews to showcase on the site. Building trust with a strong brand presence and customer reviews goes a long way.
Check out the site as it is today and if you are in Arizona, order something delicious, let us know what you think.