7 Reasons SEO Is So Important To Your Business In 2021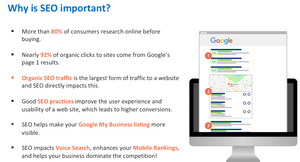 SEO takes time, its a process with lots of moving parts and it changes almost daily.
So why do we here about it all the time and why is it so important?
We Specialize In Top Tier SEO For Websites. See Our SEO Packages
Lets explore 7 reasons why SEO is important to your business.
1. More then 80% of consumers research online before buying.
There are lots of ways to communicate with existing customer like newsletters, in store advertising and product packaging. But what about the customer that has no idea you even exist, they only know they have a problem or need and want a solution. 
These are the new customer that will help you grow and expand your reach beyond your existing customer base. So where are they?
They are out there now and they are searching online. They are looking at reviews, comments, blog articles, how-to, and top 7 lists just like this post you are reading now. SEO help you get in front of this 80% that are searching online.
2. 92% of organic clicks come from Googles page 1 results.
In a nutshell, you need to be on page one.
If you are not on page one you are fighting for the 8% scraps that are left over and the competition is brutal. So if you have to be on page one, and the rewards are huge, why do SEO any other way then the right way?
SEO is a process that takes months and needs to be maintained but the lions share of the pie is to be had by those that do it right. 
3. Organic SEO traffic is the largest source of traffic to a website and SEO directly impacts that.
You can pay for traffic, but if you stop paying you stop getting traffic. 
Getting your website setup correctly, directories in place, correct information being shared, reviews, quality content, backlinks, and more, mean you will get found. 
Organic traffic is coming to you from those who are looking for a solution to there problems. It could be the need for new clothes, real estate, non-profits, or just a quirky gift for someone special. People are looking everyday.
4. Good SEO practices improve the user experience and usability of a web site, which leads to higher conversions.
Ever visit a website with pop-ups all over the screen? Annoying isn't it?
User experience is that, and so much more. Google places weight on how fast a website loads, in fact studies show that at a certain point customers are likely to leave before the website is even viewed.
Pop-ups, menus, navigation tools, and site speed are just some of the SEO practices you want to have in place to improve the user experience. 
5. SEO helps make your Google My Business Listing more visible.
When you search for our company, Hoku Marketing, you will see our Google My Business Listing - like this
Take the time to search for your business name and see what your Google My Business Listing looks like. Here is an interesting article that goes a bit more in depth on local SEO ranking factors.
Now, try and search for something you sell or a service you provide, without using your business name. Did you come up? Did your Google My Business Listing show? Who's did?
Quality SEO will get your listing to show up in Google searches more often resulting in increased traffic and conversions.
Email Newsletters Are A Great Way To Drive Traffic, See Our Review Of 2 We Like.
6. SEO impacts Voice Search.
Hey Alexa!
Yep, thats voice search explained in two words.
You may not have a smart speaker, you may not use one or even understand how they work, but customers are using them everyday. 
Every year Amazon sells millions more then the previous year. As of January 2019 they have sold over 100 millions voice enabled devices, and growing.
Quality SEO will help you get found on these and the millions of other voice search devices.
7. SEO enhances your mobile rankings.
Have you looked at your analytics lately? Take the time to see what kind of device people are using when they visit your site.
You might be surprised at how many people are using their phones to do research before making a buying decision, even at home or work.
It is absolutely critical that users have an excellent experience when viewing your site on mobile.
Getting found on mobile search means you need to have a solid SEO plan and consistently execute.
If you need help with your SEO visit us here for more information - 
https://hokumarketing.com/pages/seo-management