Mailerlite Vs. Converkit In 2021- Two Great Email Platforms, Which One Should You Use?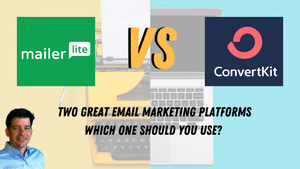 Keep in mind that we may receive commissions when you click our links and make purchases. However, this does not impact our reviews and comparisons. We try our best to keep things fair and balanced, in order to help you make the best choice for you.
Convertkit has several different levels of service that start with the free plan that can be added to based on the amount of contacts and services a business or individual intends on targeting.
The free service that ConvertKit offers are:
Unlimited and customizable CTA's,
a selection of more than 30 premium landing page templates,
unlimited traffic,
custom domain setup,
mobile device designs,
Unsplash image integration,
manage up 500 subscribers,
email broadcasts and subscriber tagging.
The paid version of ConvertKit starts at $29 and offers all the same things available in the free plan plus quite a few more features. The added features are 1,000 subscribers, reporting, visual automation, automated emails, more than 90 integrations, API, creator community, premium support and, free migration fro other tools.
Those that choose the paid version can also pay extra as their audience expands. The plan starts at $29 and goes to over $3,000. If the number of subscribers goes above 900,000, the owner or individual can speak with the staff for a quote on the monthly fees.
Mailer Lite also offers several different levels of service that begins with their free version. 
The free plan offers a
knowledge base,
24/7 email support,
video tutorials,
drag and drop editors,
rich text editors,
photo editing,
file manager,
email newsletters that are mobile friendly,
landing pages,
embedded and pop-up sign-up/subscribe forms with subscribe management and unsubscribe page builder,
RSS campaigns,
multiple domains and user accounts,
free website,
5 landing pages,
unlimited websites and landing pages for $10 extra per month,
unlimited traffic,
SSL encryption,
GDPR compliance,
opt-ins,
surveys,
quizzes,
pop-ups,
custom code injection,
mobile optimized landing pages and analytic information.
The paid versions of Mailer Lite start at $10-$15 per month and add other features like Live Chat support, Mailer Pro for $100 more, removal of Mailer Lite branding, HTML Editor, newsletter templates, custom domains, promo pop-ups, auto resend, specific time zone delivery, dedicated IP for $50 more per month, click maps and locations, unlimited domains, template creation, A/B testing, favicon customization, and advanced heat map analytics.
As with Convert Kit, Mailer Lite's pricing increases by the amount of subscribers and services needed to conduct business. From as little as $10 per month the user gets up to 1,000 subscribers and unlimited emails to $1,915 per month for as many as 600,000 subscribers and 7,200,000 emails per month.
For more subscribers and emails the user would need to contact customer support for a quote.
Want Someone To Write Your Emails For You? See Our Content Options.
Email Marketing The Value Of Marketing
There is a lot more involved in running a successful business than simply the fun of creating the things you love the most.
Regardless of whether your business consists of just yourself (the owner/individual) or hundreds, maybe even thousands of employees; there is not a business in the world that can thrive without some kind of marketing strategy.
Anything that is done without utilizing some sort of marketing is really nothing more than an upscale hobby that may or may not make you any kind of revenue.
Some businesses like to use 'word-of-mouth', radio commercials, television commercials, fliers sent through snail mail and newspaper ads.
With the introduction of the internet, marketing has taken on a whole new meaning that can serve any business with the kind of traffic they need to make their company grow.
From websites, social media, mass emails and newsletters, subscriptions, opt-ins and internet ads, any business would do well to include the most basic internet tools to increase their business' chances of staying afloat.
However, there are still a lot of businesses out there that will simply create an internet flier and a website and hope for the best without realizing that maintaining their presence on the internet will inevitably bring and keep traffic flowing to their company.
Two very prominent websites that are specifically designed for targeted email marketing
Are used by companies that seek customers that they will not only gain, but keep.
In the long run for any business, not using some form of email marketing would could potentially be a very big downfall.
Even with the potentially high cost of using an email marketing service, an upcoming business can not afford to not give this kind of marketing a chance to help their company thrive.
Why Use A Marketing Service?
When deciding what you need to advertise your business and what you offer, keep in mind that everything from insurance agents, lawyers, medical information and even educational to pretty much everything in between has a very large internet presence.
What business in the world would want to pass on the opportunity to have that very same kind of presence and traffic?
Although Convert Kit and Mailer Lite are primarily email marketing service, neither of them limit their services to only email marketing.
Both extend their services into some other very important parts of internet advertising and give business owners/planners some basic tips and walk-throughs to get them started.
Both of the listed sites offer more than an emailing program.
They offer many of the same things to varying degrees with different prices, but what is it that a business may need?
Maybe some websites with templates, customizable newsletters, customizable mass emails with resend options, a clientele list, unsubscribe features so patrons that leave do not have to be bombarded by unwanted emails, and customer support manned by people who know what they are doing and are more than willing to help you through whatever issues could possibly interfere with your company's work?
Marketing By Email?
Marketing by email is exactly what the name suggests- literally creating commercialized emails.
Commercialized emails are specifically designed to target a specific set of consumers that would be interested in a certain product, idea or service.
Sending cold emails never guarantees that the information you are sending is reaching the audience you want without the sender having to be excessively meticulous about who they are sending the email to.
Email marketing takes all the extra legwork out of sending mass emails so the sender does not have to type in individual names, emails, numbers, and etc.
Putting in the most basic information for so many different people can be a long and tedious task that can take the fun and passion out of the job you love that deems email marketing necessary.
There are several different email marketing services that will send the mass emails to potential consumers so that you do not have to work so hard to get your service to the right people.
Convert Kit and Mailer Lite are some prime examples of email marketing that would easily suit the needs of any business or individual.
Who Needs Email Marketing?
Email marketing is a great strategy for any business or individual.
Authors, writers, managers, designers, web-hosting service providers, restaurants, chain stores, and pretty much any other type of work or service would highly benefit from using email marketing.
The hardest problem is choosing the email marketing service that will serve your needs and your budget at the same time.
The good news is that you do not have to simply pick and hope for the best.
Both Convert Kit and Mailer Lite offer free plans that can be added to as the needs of your business grows and requires more.
Keep in mind that both services do offer a lot of similar services that will help any business reach it's full potential. Both also offer several features that the other does not.
There is not a single business in the entire world that does not need email and internet marketing, but deciding what you do need may take quite a bit of research and comparison before you can settle on which one is right for you and your business.
Convert Kit and Mailerlite are both highly recommended and have outstanding reviews to back up the services they provide.
However, when it comes to what your company can afford to spend money on, real information and personal comparison goes a lot further than some reviews that may or may not be written by slightly disgruntled clients that had an issue that was not resolved that way they wanted it to be.
The truth is, this really does happen sometimes which makes it more important for a business to look at every detail of a service with a fresh and unbiased eye.
When looking at all the services that Convert Kit and Mailer Lite have to offer, you will find that their dedication to helping businesses succeed is unparalleled by any other form of advertising.
The main problem is deciding what services your willing to pay a certain amount of money for and whether or not the other services that come with what you selected are worth the price.
Once you begin doing the side by side comparison of Convert Kit and Mailer Lite, you will probably have more questions than answers. The biggest question of all is the hardest.
Which one is better for the kind of company you are in charge of finding high quality marketing for?
As it is plain to see from the above comparison of Convert Kit and Mailer Lite, the results are simple- both services offer a multitude of extremely useful criteria.
However, Mailer Lite comes in first place with the amount of services for the money.
Convert Kit has fewer services for a higher price as well as fewer customizable features. The free version of Convert Kit would be great, but it would be hard to grow a business once the needs become more demanding.
Mailer Lite has many more features than Convert Lite, even on the free version, that are highly necessary as well as customizable for businesses and individuals alike. Even the lower priced plans add several features that would help anyone in need of email marketing to kick their work off the way they want to do to be successful.
A Fine Point To put a fine point on to the concept of email marketing, the individual or business needs several features that are helpful to their work as well as their customers.
Above that, work should not have to be a daily headache of work vs. financial losses and gains. A good email marketing service should offer a wide variety of templates for emails and newsletters, contact subscriptions and opt-ins as well as unsubscribes.
They should also offer tutorials and customer support that will help guide users through the set up process as well as the most basic and pressing of technical problems.
In the side by side comparison it is obvious that Convert Kit does, in fact, offer some of these most useful features.
However, Mailer Lite has the same options as well as several others, including video tutorials and 24/7 customer support.
When it comes right down to where any service hits a business or individual the hardest- in the wallet- Mailer Lite has once again come in first place.
While either of these two services would be great for anyone looking into email marketing, Mailer Lite is the one that is highly recommended for their services, add-ons and pricing.
With all of the great reviews for both of these websites and the handful of not so good reviews, the truth of which one does every job a business could ever hope for in an internet marketing agency is clear.
While Convert Kit does have some pretty outstanding reviews along with a handful of bad ones, it is the price and amount of services that keeps this service falling behind Mailer Lite.
In the end of all things businesses need to make their company successful, it is apparent that email marketing is an absolute must to make a company not only survive, but thrive.
Choosing the marketing service that you need should never cause undue stress on the job at hand or on the business' finances.
Mailer Lite is the obvious choice that will serve any company with more than a few emails for a very steep price.
Mailer Lite not only offers mass email programs but also multiple websites and domains that will maintain a company's search-ability as well as maintaining the internet presence that will help a business grow rather than barely get by.
This marketing service offers much more than it's competitor Convert Kit and allows a business to conduct business without being afraid of going bankrupt simply because their marketing agency is way too expensive and has too few of useful features.
Anyone that is invested in any industry could achieve their marketing goals by utilizing a service like Mailer Pro.
There is a lot to be lost with many marketing services, but a lot to be gained with Mailer Lite.
Have you heard of Moosend? Another unique email provider, see our write up HERE.