Should You Use A 360 Product Photo Or Still Image?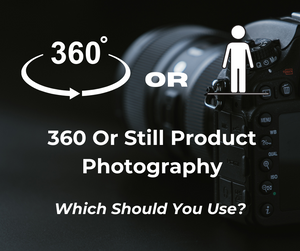 Should You Go with 360 Product Pictures or Still Images?
Keep in mind that we may receive commissions when you click our links and make purchases. However, this does not impact our reviews and comparisons. We try our best to keep things fair and balanced, in order to help you make the best choice for you.
Which option is a more worthwhile investment – 360° pictures or still images of products? Perhaps an integration of both is worth considering.
Because every business is unique, there isn't a universal answer to this question.
7 Reasons Your Should Be Using 360 Product Photos
There are a few aspects you need to take into consideration:
Your goods.
Information about product pictures.
Your customers.
Your Goods
Several products are suited for 360 pictures, while still images remain a better way to go for others.
Still pictures are for basic one-dimensional items; 360 pictures are ideal for complicated products – ones with multiple dimensions that you can see from all angles and sides.
There are several instances where items that are ideal for 360 pictures should be paired with high-res still imagery.
In such instances, the smartest choice would be to use a 360° picture that displays the entire product alongside still image hotspots. When a hotspot is clicked on by a consumer, a still image with details will be visible.
Spend some time analyzing your goods to establish what types of images are most suitable for each one. To optimize your results, do some mixing and matching with them.
Your Customers
Each customer has their own buying habits. The perception of your products varies depending on the consumer. Some imagery is more effective on certain buyers than they are on others.
Consumer types can be divided into three categories. The images most suitable for them will be different, as far as the purchasing process goes.
Informed Customers
These types of consumers understand exactly what they're looking for. Research has gone into the products they're interested in. It won't take them long to decide if they're going to buy something.
Multiple still images in high quality that display the product as a whole should be convincing enough for them to make a decision.
Uninformed Customers
These types of customers are indecisive about what they desire, and they aren't that knowledgeable about your goods. They need to be educated for the sake of determining if a product is suitable for them.
These buyers will need to see a number of detailed pictures that showcase a product's quality and features.
A 360 picture that displays a product from every angle allows consumers to engage with it, and subsequently, help them make a buying decision.
Imagery should be used to offer these types of consumers the information they need.
Get A Full Conversion Audit Of Your Ecommerce Store
Comparison Customers
These types of customers enjoy comparing products. They jump between products and contrast features before choosing one to buy.
To convince these consumers, you'll need to take your business' competitive landscape into consideration.
What type of methods is your competition using, as far as product images go? Do their still imagery or 360 photos get a lot of views? Are all pictures in high quality? Is 3D imagery used?
To convince comparison consumers that your product deserves their money, the way you present it must be superior to the way your competition does.
Consider the following when deciding what types of images to choose:
To achieve success with e-commerce, product pictures are necessary.
Still images in high-resolution shouldn't be neglected, as they can display your products with specific views.
Numerous image views (for instance, close-up, back, front, right, left, bottom, and top) help customers get a better sense of your items.
360° product pictures integrated with high-res still images give customers a mix of both worlds and multiple angles.
360 product pictures enhance the visibility of your goods and encourage consumer engagement.
Pictures in 3D enhance product views from all angles. 3D pictures can be combined with still imagery.
We recommend checking out the GLO3Dapp and have a special discount code you can use for 25% off - Use HOKU25 at checkout.