Buzzsprout vs Podbean 2021 Updated Comparison and Review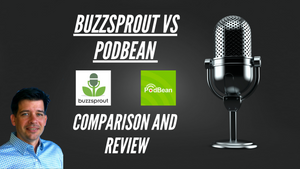 Keep in mind that we may receive commissions when you click our links and make purchases. However, this does not impact our reviews and comparisons. We try our best to keep things fair and balanced, in order to help you make the best choice for you.
If you have already decided on Buzzsprout as your hosting platform read our guide (with Videos!) HERE    If not....read on.
Every Podcast Needs A Good Email Provider To Keep Listeners Up To Date.
Podcasting In A Nutshell
With all of the different forms of social media sharing available in today's technological world, it is not hard to imagine that podcasting has become quite a popular outlet.
Podcasting is so popular because it allows the user to create audio files based in subjects they are passionate about and publish them so that others can enjoy a similar or different perspective.
The major differences between podcasting and other social media outlets are the types of files that are shared, the equipment needed to share the files and the pricing.
Social media outlets allow users to share pictures, memes, videos, text messages, written posts and, some do allow audio files. Podcasting, on the other hand, is typically only audio or video recordings that can be produced before
publishing or via live stream.

Podcasting: Where And How

There are several podcasting websites that allow the user to create audio files or stream live.
The user is typically required to purchase several of the most necessary features like hosting and the storage space that is needed for podcasting. These websites also require the users have some very expensive recording equipment.
Buzzsprout and Podbean are very different from the other services available for podcasting.
Both offer several different tiers of services as well as storage space and hosting. Neither require the user to have expensive equipment, that detail of work is left up to the individual.
With the similar aspects Buzzsprout and Podbean, which service is best for a user's individual needs?

Buzzsprout does not have an app that can be downloaded onto mobile devices. However, users can open Buzzsprout on their internet browser, save it to their home screen and use the features from their mobile device as if it were an app.
This particular aspect can come in handy for users who do not have a lot of space on their mobile device or an SD card to save an app to.
For those using Buzzsprout you can can get your podcast listed in all of the top podcast directories
Reach millions of potential listeners by listing your podcast in Apple Podcasts, Spotify, Google Podcasts, Stitcher, iHeart Radio, TuneIn, Alexa, Overcast, PocketCasts, Castro, Castbox, and Podchaser.

Buzzsprout has four different tiers of service that add features according to each individual plan.
The first tier is free. The free tier offers the user 2 hours of upload time per month, 90 days worth of hosting per episode, gives the user a breakdown of advanced statistics and unlimited team members. With the free version there are ads and Magic Mastering is not available.

The next three tiers off the same features without ads as well as having more hours to use per month.
Magic Mastering costs extra with each of the paid tiers. Magic Mastering is a high quality noise reduction and removal feature that allows each episode to be produced with a more natural and clear sound that listeners can enjoy.
Here is a short video explaining what magic mastering is and why you may want to use it. It is done in an actual Buzzsprout account showing everything you need to know.
The second tier is $12 per month, has 3 hours of podcasting time per month, advanced statistics, no ads, indefinite hosting, unlimited storage, unlimited team members, and the user can import their episodes for free.
The third tier is $18 per month, has 6 hours of podcasting time per month, no ads, advanced statistics, indefinite hosting, unlimited storage, unlimited team members, and free episode import.
The fourth tier is $24 per month with 12 hours of podcasting upload time, no ads, advanced statistics, indefinite hosting, unlimited storage, unlimited team members, and free episode imports.
With each of the paid tiers, users get other benefits that will help them gain exposure to their podcast. The added features are a podcasting website, custom embed players, placements in podcast directories, and 250 GB of bandwidth storage per month. Episodes can also be monetized on the paid tiers.
Paid Extras 
Promote Your Podcast With Social Media Tools
Thinking about getting started podcasting with Buzzsprout? This video takes you through setting up an account and all the steps you need to complete. Its a great follow along that will make sure you dont miss any steps.

Podcasting with Podbean

Podbean has both online and app for both Android and iPhone, along with 4 tiers of service.
The first tier is called basic and has several useful features. With Basic the user gets 5 hours of podcasting time in total that does not reset each month, 100 GB of bandwidth monthly, embedded players, podcasting website, RSS Feeds,
iTunes support, free themes and basic statistic reports.
All of the tiers of Podbean's services include customization for sounds and a music library for background control.

The next three tiers have all the same features as the Basic plan, plus more and can be billed either monthly or annually.
The second tier (Unlimited Audio) is $14 per month ($9 per month when purchased annually). The added features are unlimited storage space, unmetered bandwidth, pro themes, comprehensive statistics, advanced custom designs, personally mapped domain, ads marketplace for monetizing, and premium sales.

The third tier (Unlimited Plus) is $39 per month ($29 per month when billed annually), has the same features as the second and first tiers with several other additions. The added features include video and audio podcasting, full custom design, a patron program and Pod-ads for advertising.

The fourth tier (Business) is $129 per month ($99 per month when billed annually), has all the same features as tiers one, two andthree as well as several features that are ideal for businesses.
The added features for this plan are multiple podcasting channels, multiple admins, private podcasting with SSO authentication, engagement Intel, groups, removal of Podbean branding, live char support and white label apps that can be purchased.

The Comparison:

The fact that both Podbean and Buzzsprout have so many similar
features as well as some very different ones makes the choice between
these two services very difficult.
Both of them offer a lot of services that would help any pod-caster, new or seasoned, to get started and maintain their podcasting website.

The pricing for the tiers of service on Buzzsprout and Podbean are well worth the money and can easily fit into an individual budget. Most pod-casters usually start out with the most basic plans which are free on both of these websites.
Buzzsprout's offer of 2 hours per month is better than being locked at 5 hours in total on Podbean and offers several more features per tier.

Even though Podbean does have an app available for both Android and iPhones as well as a website that can be used for recordings, Buzzsprout still seems to offer much more than Podbean does in the line of features.
However, Buzzsprout limits their hosting to 90 days with the 2 hour limit on their free plan.

Which One Is Better For Podcasting?

Determining which of these two services is better is a very difficult.
Based on everything Buzzsprout and Podbean has to offer, the truth is clear. These two services run neck to neck in their offers with only a few minor variations in features and pricing.
When deciding between the two, the potential user would definitely be better off starting with the free service then upgrading to the tier that would serve their individual needs the best.
This is with the exception of the Business tier on Podbean, which has great features for a pretty fair price but is obviously intended for businesses to grow their brand rather than simply podcasting to share ideas, news and opinions

Any pod-caster would get a lot of great benefits from either Buzzsprout or Podbean, although Buzzsprout would be the most likely candidate since their hours are not capped in a manner of totality.
Buzzsprout also would be a much better choice for pod-casters who want a lot of exposure for less money as well as more connections to social media advertising.

In the world of podcasting the most important things to the podcaster are simple enough- Will the amount of hours be enough to say what they want to say?
Can they interview others on the podcasting service? Will the sound quality be good? Will the listeners enjoy listening to their Podcast? And most importantly, Can the pod-caster afford the tier they need and enjoy using the interface?

With either Podbean or Buzzsprout, the answer is- yes. Either of these sites are great choices that are about as hassle free as the world of podcasting can get. However, when it comes right down to the final showdown,
Buzzsprout has won this battle of the pod-casters based on their added features and non-capped free plan.