Mailer Lite - The Lite Heavy Hitter in the Email Arena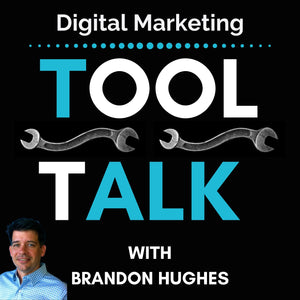 In this episode I talk about Mailer Lite and the email platform. It has a few key advantages over some of the other platforms I talk about and is price friendly.
Be sure to read our blog post - Mailerlite Vs. Converkit and if you are a podcaster take a look at - 3 Best Email Services For Podcasters

Some of the key areas that I like are the photo editing, automation visualization, resend, and time zone sending.

To Learn more about Mailer Lite visit them here - https://www.mailerlite.com/a/y1iogyviq7
This site contains affiliate links to products. We may receive a commission for purchases made through these links.

Please email any questions or comments to brandon@hokumarketing.com or visit my website to see all the episodes at www.hokumarketing.com
Transcript
I know a lot of you are on self-quarantine or some sort of lockdown, working from home. Our schedules have been upended and there's all kinds of craziness going on out there. I hope you're being safe and I hope you're helping out in your community. Right now, while you're stuck at home, or limited in what you can do, it's a great time to do some research on which email platform works best for your needs.
We've been looking at all the different email platforms out there for you to pick from, and today I want to focus on MailerLite . Pricing MailerLite is quite interesting in that it solves a lot of different pain points.
It has a couple of unique features but first, let's dig into pricing. I like how they present their pricing on their site – I think it's one of the more clear ones out there. I've dinged some of the other platforms for being confusing and I've also applauded some for being so clear and simple, and MailerLite falls into that latter category.
MailerLite does offer a free plan just like most of the others. However, the free plan has many of the same capabilities as the paid premium options. If you have a small list and you're on a budget but you really want to get in with a platform that's going to give you the most features on the free plan, MailerLite is something that you should take a look at.
The free plan limits you to 1000 subscribers and it also has a limit on the number of emails you can send each month, but that's to be expected with something that's free.
Once you get beyond that, you get unlimited emails each month and the pricing is some of the most competitive out there. Keep in mind that pricing is not the main aspect that you should use in choosing the best email provider. However, if you've looked at all the options and compared the bells and whistles that each plan offers, pricing would be the next place you'd want to look.
I think MailerLite beats everyone with their pricing for the 5000 to 10,000 subscriber range. The monthly cost is $50 and that's probably the least expensive I have seen, especially for what you get with all of the options that they offer.
MailerLite Premium Plan Features Contact Options
The premium plan adds email and live chat support. I found it kind of interesting that those are not available on the free plan. Live support on any type of platform is always nice to have. With the free plan, you have to submit a support ticket and go into their customer service queue. Logo Removal The free plan includes a little logo on the bottom of your emails; it's not a big deal but maybe it's important to you to not have that. The premium plan gets rid of it.
Custom Domains and Dedicated IP Addresses
One thing that I like is that you can do custom domains with the premium plan. You can set up your own dedicated IP. Maybe you're not familiar with why you would want a dedicated IP. You may have heard people complaining that their emails aren't getting through to their subscribers; they get blocked in some way or put into spam.
Maybe you've even experienced this as a customer – you never got an email you were expecting. Or, you have people on your list who are behind a very large network that might block certain IP addresses because they know that's where a lot of spammy newsletters come from. A dedicated IP address from which to send your emails can help you run into this less often. It's your own IP, so your deliverable rate increases as well as your open rate.
If your open rate and your deliverable rate go up, they recognize that and that further improves performance. Some of the other platforms do have this feature. But with MailerLite, it is an extra $50 a month and if you have a large list – 50,000+ – is it worth it? I think so, particularly if you're looking at the ROI and the value of your email list. So, that's something to think about.
Auto-Resend
They also offer auto-resend when you upgrade to the premium plan. I've done a few campaigns on a platform that has this function. How that works is when you send an email out, you can say, "Hey, I want to auto-resend this email to everyone who doesn't open it within three days," or whatever length of time you choose.
You'd be surprised by the number of people who do open that second send. You don't know what's going on with people. Maybe they have a weird work schedule; maybe they got bombarded that day with a whole bunch of emails and felt too overwhelmed to open any of them. I do that all the time. So, resends are a great option to increase your deliverable rate and get people to read your newsletter. Click Mapping Another thing I really like with the premium plan is click mapping.
This allows you to see how people are interacting with your email. This could give you some very valuable insights, particularly in the beginning when you're building your list or when you start a new campaign. If you see people only engaging with certain sections or not engaging with certain sections at all, you can refine your design, maybe improve your click buttons, your placement, all of those user-facing aspects of your newsletters. Overall, I think for the cost and the number of features that it offers, MailerLite is a definitely a competitor out there and they're doing a good job with what they're presenting.
Diving Deeper Automation
Email automation is something that I've discussed for almost every platform so far and MailerLite is doing a good job with it. They don't have as much information in their automation as say, Active Campaign or ConvertKit. But they do have a nice layout where you can visualize your automation and bring things in.
Some of these big platforms don't have this, and they're really missing the boat. They're getting into other things that are not related to email and I think that's a big mistake. So, the automation in MailerLite shows a layout of how you're interacting with people, personalizing that content and creating that flow. It makes it easier to set this up and modify it when you can visualize it .
Picture this: Someone joins your list and the program drops them into the flow chart and adds them into an automation you set up depending on what the subscriber does. It might split into two and you can add them to certain email sequences based on a yes or no question they have to answer when signing up, or something like that.
You can split that a hundred different ways, but as you can imagine, it gets a little confusing as people are going through this process. Having it set up like a map or flow chart to visually consume is very, very nice. This enables you to see where people are engaging with you: Where are you losing them, what kinds of things are they clicking on? What aren't they clicking on? I know this sounds like a lot of work, and it is, but remember that when you set these automations up, they run 24/7 until you shut them off or change them.
Taking the time to set it up is worth it. Then, all you have to do is keep it updated with some basic maintenance checks periodically. If you're not currently using automations, I highly suggest setting that up because it will make your life simpler over the long run.
Photo Editing Another option that MailerLite has on both the premium and free plans is a feature that I really like: photo editing. Most of these platforms have that, but some of them don't allow resizing. They allow you to crop or use a filter. It's kind of like a Bandaid, or maybe they just want to be able to say they're offering photo editing. You've really got to have the resize. I can't tell you how many times I've had to bring photos into email newsletters and it just drives me crazy.
Yeah, you can crop it but then you're missing the text on the photo or the image doesn't fit properly. It seems like the formatting is always the biggest issue. Being able to resize, as simple as it sounds, is so nice to have within the email platform itself.
Pop-Ups MailerLite, just like the rest, has pop-up forms. What I really like about their pop-up forms is that they allow you to bring in images and photos and really personalize it more than some of these others. It doesn't look like this stock pop-up form in this boring box with no visual excitement to it at all. If you've looked at some of these other platforms, you know their forms are so generic and boring. But when you look at MailerLite, they have some nice pop-ups.
They do the floating bar, and I really like the slide box that comes out. It's a little less intrusive. And for those of you who are at the point where you need to command the reader to sign up or to take some sort of action, you use the full-screen pop-up.
Overall, I really like their templates and the way you can customize them. Delivery By Time Zone This is one that's important to me as I'm in Hawaii. We're in the middle of the Pacific. We need to look at time zones all the time. I have people call me at three o'clock in the morning and send me emails expecting responses post-haste and they don't realize what time zone I'm in. If you know the time zone that people are in, you can increase your deliverable rates, your click throughs and your overall engagement by sending it to them at the right time.
Integrations They integrate with all the big e-commerce platforms – Shopify, WooCommerce, so on and so forth, just like all the other platforms . Design Gallery Finally, they have a wonderful gallery on their site for premium users, showing what can be done with a the MailerLite email templates and some of the customizations.
A lot of places have galleries and you can see what can be done, but MailerLite really has quite a few in there that that would be suitable for a wide range of business types. It gives you a lot of creative ideas for what you can do with your emails and the way you present the information. Whenever I'm doing emails for clients and creating automations for clients, it's always nice to have some templates and some gallery images to browse through so they can find one they like to give me a jumping off point.
I can then go in and change the colors and branding and make a design that is customized just for them. Final Thoughts Overall, of all the different email platforms that I've reviewed, I definitely think that MailerLite is doing a good job for their price point. If you need good workflow automation, a wide variety of email templates to customize and a lot of features to work with, I encourage you to take a look at MailerLite.
Stay tuned for a post summarizing the different platforms. I'll give my recommendations and opinions on which email platforms you should be using based on the type of business that you're in, whether you're a content creator, you're in e-commerce, or maybe you're a nonprofit. Perhaps you just want to send out a fun and informative email newsletter – I'll have recommendations for you, too.
If you have any comments or questions about any of the platforms I've gone over or you want to talk about a different type of digital marketing tool, go ahead and email me at brandon@hokumarketing.com.
If you like this type of content but would prefer to listen to it via my podcast , please check that out. And if you have a digital marketing tool that you like, or even one that you've created, let me know in the comments or send me an email.